Tue, 4/10/2022 - 11:22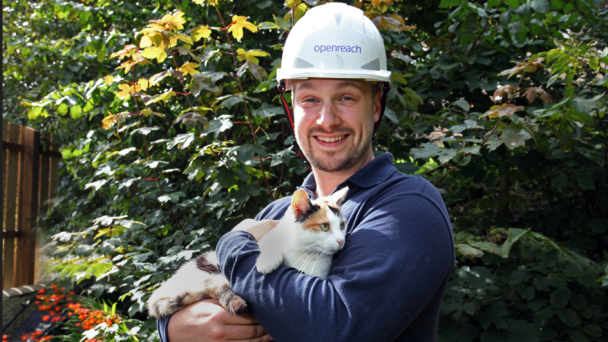 Openreach engineer Doug Craig accidentally cat-napped his neighbour's pet as he took a 100-mile trip to Coll to fix a broadband connection for the island's fire station.
Tia the cat sneaked into Craig's van in Oban at 4am and stayed hidden for the three-hour ferry crossing to Arinagour in the Inner Hebrides.
"It was a last-minute trip due to an urgent data fault at the voluntary fire station on Coll. I was working for a few hours before I realised Tia was there," said Craig.
"I've heard of other curious cats climbing into colleagues' vans on occasion – but I've never heard of one that went to sea on a 100-mile round trip."
Craig got a message to his mum back in Oban to let his neighbours Elyse and Martin Hamilton know where Tia was, before visiting the island's general store to stock up on tuna and biscuits and bedding down for the night
Elyse Hamilton said: "Tia can be quite shy and independent, and it wasn't until Doug's mum knocked on the door we actually realised she was missing.
"We're beyond grateful to Doug for taking such good care of her – as I was trying to fathom how we would manage a trip to Coll to bring her home.