Wed, 26/10/2022 - 12:08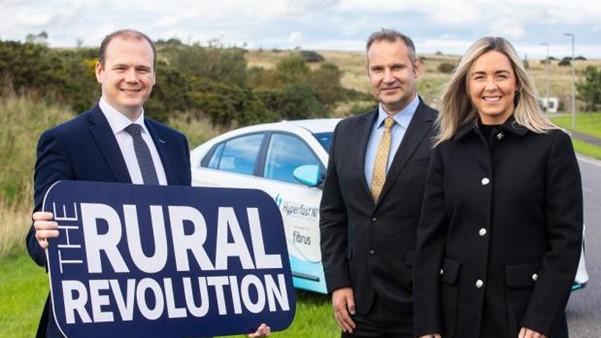 Over half of the 85,000 premises scheduled for improved connectivity under Project Stratum now have access to gigabit-capable broadband.
The Minister is pictured with Fibrus Chief Operating Officer Shane Haslem and Fibrus Construction Director Jenny Lennon.
Public funding totaling £197m has been allocated to Project Stratum from the confidence and supply agreement, The DCMS, the Department of Agriculture, Environment and Rural Affairs and DfE.
Fibrus Networks has been delivering the contract and now directly employs 320 people, with another 400 indirectly employed via build partner Viberoptix who subcontract a further 500.
Minister Gordon Lyons said: "Project Stratum is one of the most important major infrastructure projects that Northern Ireland has ever seen. 
"The 85,000 premises set to benefit from this much-needed public intervention will help to close a broadband connectivity gap that has existed in Northern Ireland compared with other parts of the UK at superfast levels."
The rollout of Project Stratum is continuing, and Fibrus Networks are on-track to reach all 85,000 premises that form the contract by March 2025.