Wed, 5/10/2022 - 09:54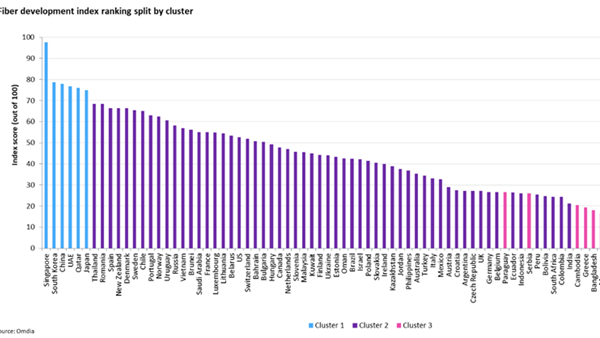 Omdia is prompting more ambitious rollout strategies from the government and internet service providers as the UK ranks 53rd on its Global Fibre Development Index.
Singapore emerged as the leader in the 2022 Index, closely followed by South Korea, China, the UAE, Qatar, and Japan.
In February 2022, the UK set a new target for nationwide gigabit-broadband to be available by 2030.
In comparison, Singapore is already claiming full FTTP coverage, where it is treated as 'strategic infrastructure.'
According to Omdia, all territories in the leading cluster benefit from strong national broadband plans with ambitious targets around ultra-high-speed services.
Network X Research Director, Michael Philpott said: "Countries, such as the UK and the US, that are further down the list than many less developed countries, may need to consider policy reforms to ensure that it is easy to deploy infrastructure and that competition in the market remains high in light of mergers taking place."