Mon, 22/05/2023 - 14:25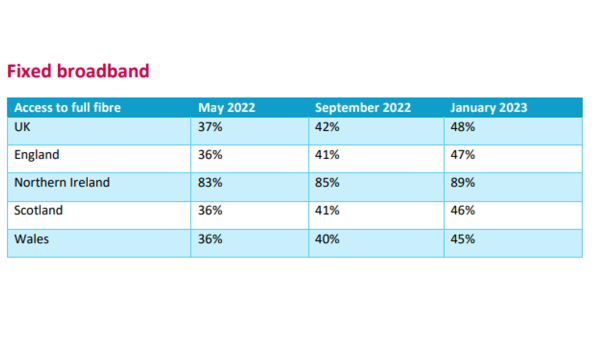 Full fibre coverage is now at 14.2 million, according to Ofcom's Spring 2023 report, up from 12.5 million reported in its December 2022 report.
This represents almost half (48%) of UK homes, an increase of 15 percentage points in one year.
These figures are lagging for SMEs, with fibre accessible to 38% of small businesses (10-49 employees on site) and 35% for medium sized businesses. (50-249 employees on site).
This rises to 43% in micro-organisations (1-9 employees on site), likely because more are situated in residential areas.
The number of homes able to get gigabit-capable broadband is up to almost 21.9 million (73% of all UK homes), up from 20.8 million (70%) since Ofcom's last update.
When factoring in fixed wireless and fixed line, 68,000 premises are still unable to get decent broadband, which has dropped from 80,000 since the December 2022 report.