Thu, 14/09/2023 - 14:54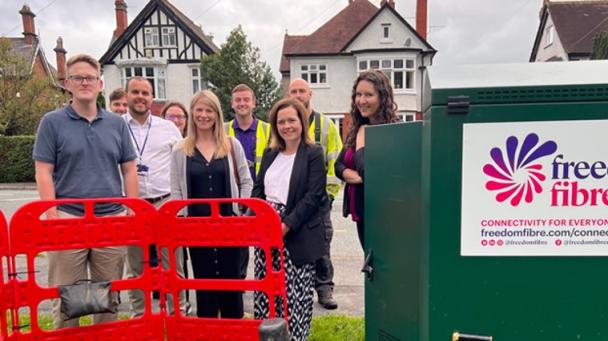 Freedom Fibre has made its network available to over 25,000 homes across Ellesmere Port and Northwich following close collaboration with Cheshire West and Chester Council Borough.
Cllr Nathan Pardoe, Cabinet Member for Inclusive Economy, Regeneration and Digital Transformation, along with senior officers from the Council, recently joined the Freedom Fibre team installing broadband in Northwich.
Pardoe said: "Fibre is vital for people across our Borough to ensure they can stay connected to family, friends, leisure, entertainment, and work opportunities. It is also crucial for businesses to help with efficiency and productivity."
Freedom Fibre plans to connect over two million homes across the north west, including many thousands more scheduled in Cheshire West and Chester over the coming weeks and months.
Pictured: Cllr Nathan Pardoe, Mike Dugine (Digital Sector Specialist), Hayley Owen (Head of Economic Growth), Gemma Davies (Director of Housing and Economy) with the Freedom Fibre team.