Wed, 15/11/2023 - 14:00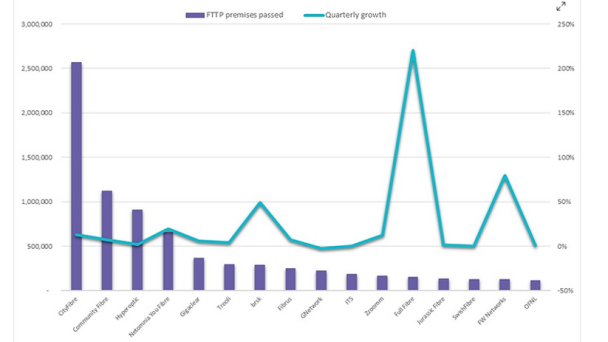 According to PointTopic, the UK's overall FTTP coverage was just over 17.4m premises (54.5%) at the end of Q3 2023, up from 16.3m in Q2 2023.
The analysis is based on the ThinkPoint broadband availability dataset which includes 1.7m postcodes.
It also found that The FTTP coverage was 50% or higher in 54% of local authorities (LAs), up from 46% of LAs three months earlier.
The local authority was the largest number of FTTP premises added in Q3 2023 was Manchester (+27k), followed by Glasgow (+24k) and Shorpshire (+23k).
PointTopic notes that altnets good work continues, with an increasing number of operators exceeding 100k premises passed.
As in previous editions, small islands and rural or remote areas dominate the bottom ten list for percentage of premises covered by any network. The Isles of Scilly remain bottom (1.51%) followed by Copeland (3.74%) and the Shetland Islands (4.59%).
Lack of progress in these areas can be contrasted by continued overbuild in cities and market towns. Almost 1.9m premises could choose between three independent fibre ISPs. This figure went up by +180K premises in Q3 2023. Braintree recently became the first UK town to be addressed by five full fibre networks.
Across the UK, 23% of premises still lacked gigabit access, down from 25% three months earlier.