Tue, 14/03/2023 - 16:54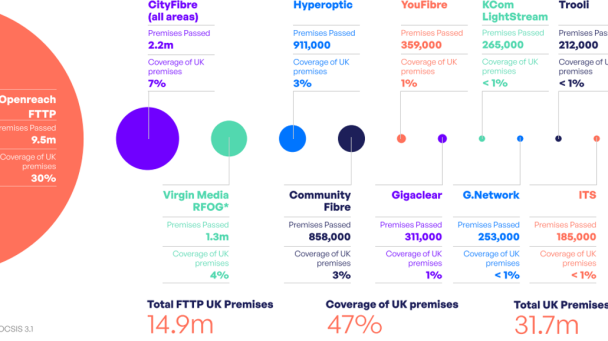 thinkBroadband's latest Quarterly Statistics put the UK's FTTP broadband coverage at 47%, representing around 14.9 million premises.
The report estimates that coverage will hit 85% in July 2025, with the 100% milestone expected exactly a year later. This includes both home and business addresses.
Statistics show that Northern Ireland remains well ahead in the fibre race, already having coverage for 89% of premises.
Of the 14 UK authorities to have achieved 85% fibre coverage, nine are in Northern Ireland, alongside Kingston upon Hull, Milton Keynes, Peterborough and Worthing.
It is predicted that Northern Ireland will hit 100% coverage as soon as June 2024, whereas Wales and Scotland will have to wait until December 2026.
Full Fibre has emerged as the technology of choice for newbuild houses in the UK, with 98% of newly constructed properties having FTTP access.
The altnet update
thinkBroadband provides a list of the ten altnets with the biggest footprint as well as an estimation of premises passed.
It hold CityFibre first (2.2m premises), followed by Virgin Media (1.3m), Hyperoptic (911k), Community Fibre (858k), YouFibre (359k), Gigaclear (311k), KCom (265k), G.Network (253k), Trooli (212k) and ITS (185k).
'Altnets play a vital role where Openreach FTTP is not available, providing an alternative commercial proposition, which can often be superior to the consumer in terms of choice,' the report reads.
'Despite being less known, these smaller networks are an essential part of the UK's broadband infrastructure and provide a critical lifeline for local communities desperate for fast broadband.'
The full report can be found here: https://www.thinkbroadband.com/assets/factsheet/broadband-report-march-…