Thu, 26/01/2023 - 11:18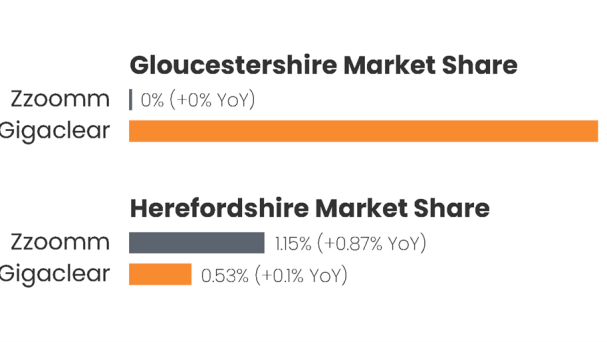 Recessionary shocks will lead to investment cooling off in 2023 and catalyse a frenzy of M&A activity in the altnet community, according to analysts and market watchers cited by ThinkCX.
The latest data from the market intelligence company reveals how consolidation in the market could play out in 2023, as investors and business leaders clamour for market share in specific areas of the UK.
"There's still a lot of investment available to fuel further fibre growth, but it's only around one-third the level of ask in the market at large and this is likely to trigger more consolidation among providers in the year ahead," said Guy Miller, CEO at MS3 Networks.
"Understanding the market dynamics at a local and regional level will be incredibly important to building M&A investment cases, particularly for operators looking to build a concentrated subscriber base or branch out into underserved areas."
ThinkCX highlights the situation in in Herefordshire, which shows the provider with the fastest growing market share is Zzoomm, which has added 0.87% total market share in the last 12 months alone (to 1.15% in total). This is comparable with the market share of Gigaclear (0.53%) and Zen (0.75%).
The picture is somewhat different in neighbouring Gloucestershire where Zzoomm does not figure at all and Gigaclear is the fastest growing provider (adding 0.77% total market share in the last year, to 4%). Among the many altnets operating in this county, Zen has only 0.39% market share and is falling.
Simply adding together some of these numbers accurately depicts how M&A between some of these providers would result in clear advantages," said Ron Smouter, VP Sales and Marketing at ThinkCX.
"As this example shows, market share for these altnets can be highly localised – providing niche business case opportunities for investors looking to expand penetration without committing to new digs."